If you are a hunter, you have probably hunted a deer or two. You are probably looking for an easy way to process the venison for making various items like hamburgers, sausages, and meatballs. A large powerful electric meat grinder can do your job effortlessly.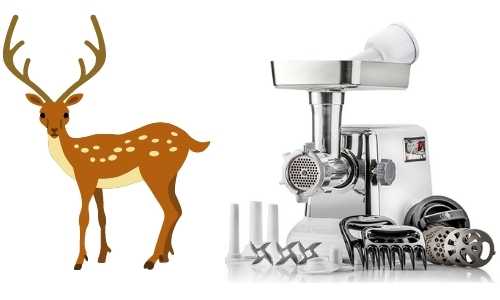 What size and type of the meat grinder for deer actually depends on how much venison you are going to grind. Besides, venison meat is firmer and less juicy compared to other meats. Thus, high motor power is best for grinding the meat in one go. Three types of meat grinders can be used for ground venison. These are:
Manual and electric meat grinders for home use
High power commercial-grade electric meat grinders
If you grind one or two deer per season, then a heavy-duty electric or manual meat grinder is enough for you. But you should use electric grinders because they are faster than manual grinders. Use home electric meat grinders of 500 to 2000 watt motor powers to grind venison in small parts. It may take time, so you need to be patient. Otherwise, the meat can clog up inside the grinder.
To ground deer with a home-based manual or electric meat grinder, you have to cut the venison into pieces and remove the bones. Then, refrigerate for at least 30 minutes before grinding. This way, it will be easy to grind the meat without smearing.
However, if you plan to grind three to four deer per season, you should look for heavy-duty electric meat grinders. 
The size of the meat grinder influenced the power too. A big meat grinder means it has a powerful motor and the size of the plates is also large. These electric grinders can even have a 1.5Hp power motor. It means they can crush the deer even with the bones intact.
As they are so powerful, they grind 13lbs just in few minutes! Also, when you fill in the meat inside the grinder, it does not clog up.
So, if you grind venison regularly, you should buy a large commercial-grade electronic meat grinder. It will save your time and labor.
Related FAQ: