If you are thinking about buying a meat grinder, you are probably thinking about which one is better for you between manual and electric meat grinders. Both have their unique use and benefits. So, it is easy to get confused.
Manual Vs. Electric Meat Grinder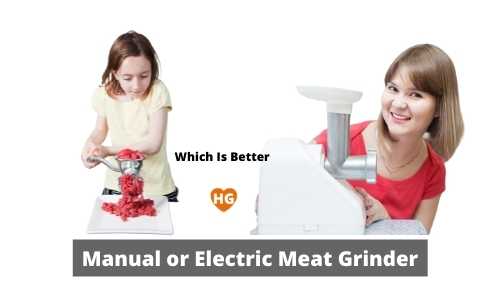 To decide which one is best for you, you should consider the pros and cons of both types of meat grinders. So, let us check the pros and cons of manual and electric meat grinders.
Pros of Manual Meat Grinder:
Low Price: A manual grinder is less pricy than an electronic grinder. Moreover, it does not need any electricity to operate. So, you can save electricity costs. 
Durability: Depending on the type of metal they are made of manual meat grinders can last for many years. 
Size: The size of the meat grinder is comparatively much smaller than the electric ones. Thus, it does not occupy much space, and it is easily moveable. 
Sufficient for home use: A manual meat grinder can handle small amounts of meat for daily cooking. 
Maintenance: manual meat grinders are easy to clean. You do not have to worry about any electrical parts while washing them.
Cons of Manual Meat Grinder:
Requires Physical Strength: Since it is manual, you have to operate the machine. You have to rotate the handle to crush the meat. Thus, it becomes quite tiresome after grinding a few pounds of meat.
Time-Consuming: It requires quite a long time to grind meat with a manual grinder. You cannot leave it to do any other chores like an electric meat grinder.
Uneven finishing: The meats are not always evenly ground. The texture of the ground meat depends on how much pressure you can apply to the handle.
Pros of Electric Meat Grinders
Automatic: Electric meat grinders are easy to use because they are automatic. You do not have to turn any handle. All you need to do is put in the meat and turn on the switch. You may have to give some input to navigate the grinding process. 
Powerful: electric meat grinders are high motor power. Thus it can process more meat per hour compared to a manual grinder.
Fast: Because of its powerful motor, it can also grind hundreds of pounds of meat super-fast. 
Size:  Another reason why electric grinders can grind meat so much is its size. They are larger than manual grinders. 
Safe and Hygienic: Electric grinders made of stainless still keep the food safe and eliminate bacteria. 
Cons of Electric Meat Grinder
Expensive: The grinders are expensive and require electric power.
Portability: Because of the size, the electric grinders are difficult to move.
As you can see, both meat grinders have their advantages and disadvantages. But which one is best for you depend on the purpose of buying a meat grinder. So, think about the pros and cons of the meat grinders, and buy what you need.
Related FAQ: