If you grind a small amount of meat regularly or occasionally, buying a manual meat grinder makes more sense. Besides, you can save the extra money that you would pay for an electronic meat grinder.
However, you have to be careful while buying a manual meat grinder. There are a lot of options in the market. But you should buy the one that fits your needs.
Here are some features that you should look for in a manual meat grinder:
Grinding Capability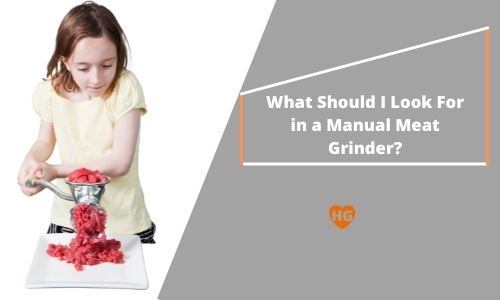 First, think about what you want to grind in a manual meat grinder. It is not just made to grind cow meat. Like many electric meat grinders, you can also use some heavy-duty manual meat grinders to mince chicken, turkey, fish, and even soft bones. 
The heavy-duty manual meat grinders have stainless steel cutting blades and discs. They also have large hoppers so that you can grind more meats at once. The crank or handle of the grinder should be smooth enough to grind meat effortlessly. 
Durability
The material used to make the meat grinder is important. If you want a cheap and temporary manual meat grinder, you can buy plastic grinders. They are light and portable but do not last long. It may break down easily.
For longer performance, buy meat grinders made of stainless steel or cast iron. The solid structure of these meat grinders keeps them functional for decades. Moreover, it grinds meat and bones better than plastic grinders.
Ease of Use
To use a manual meat grinder with ease, it is necessary to keep it stable. So, look for a meat grinder that has a solid grip to attach with a table or other supports. This grip should have rubber so that the furniture does not get damaged when you attach the grinder. Also, make sure the crank is non-slippery and comfortable to hold. 
Furthermore, consider the position of the feeding tube and output of the meat grinder. It affects the grinding process. If the output is too low, you will face a problem placing a bowl to contain the ground meat.
Accessories
Typically, all manual meat grinders come with two grinding plates (coarse and fine plates). Apart from these add-ons, look for a manual grinder having extra accessories like sausage tubes, food pusher, funnel attachment, and extra cutting blades. 
In addition to these features, make sure the manual grinder is easy to take apart. It will help you clean the grinder after grinding meat. So, decide what you expect from a manual meat grinder and get the one you need.
Related FAQ: