If you are bushcraft or wild survival and you are asking, "what is a brushcraft knife" this is the right place for you.
There has an old saying, "The more skill you have, the less gear you require."
It will a perfect mindset to have where it presents a clear path on your journey to readiness. And your preparation will complete with a bushcraft knife to overcome a lot of challenges between life and death.
Today we have fixed our mind to present before you through this post – what is a bushcraft knife, types of this knife, what are the purposes of this knife, and so much more. You will get a clear concept about the best bushcraft knife. 
Content View:
What is a bushcraft Knife?
A Bushcraft Knife
Features of Bushcraft Knives
Materials of Bushcraft knife
Types of Bushcraft Knife
Final Words
What is a Bushcraft Knife?
What is a bushcraft knife? Is it just like a chef knife or kitchen knife?
Let's know what exactly it is and how to use the bushcraft knife step by step.
A Bushcraft Knife
"Bushcraft knife" this word comes from Australia, which was familiar to the bush country previously. The meaning of it is survival into the Australian outback.
A bushcraft knife is a survival gear that suggests for primary use for any outdoor functions. This knife comes in handy where you want to go camping in the wildness, which needs essential tools to fill the survival kit.
This knife is used for cutting, batoning, and carving for various wood purposes. Some of the other craft need for the bushcraft knife-like hunting, whitling fire starter strips, tactical applications, and so on. Those jobs aren't possible with the old or traditional knives.
With a bushcraft knife, any survival situation will be easy to face and make anything that you need to fight in your adventure. This knife is specially designed in lightweight to make it more portable. It is razor-sharp and more comfortable to grip plus use.
Bushcraft knives come in much more shapes and sizes, which are also different in features. Let's speak about this knife for more details.
Features of Bushcraft Knives?
How can you recognize the bushcraft knives, and what do they look like?
Size: All bushcraft knives are normally small in size. The total length of this type of knife starts from 8 to 12-inches, not more longer. The blade of it is 5-inch longer, which is shorter than other regular knives. This site needs to make it easy to sheath, and it is the right size to carry on the pocket.
Design: Every type of bushcraft knife are not flexible, fixed. The particular design of this knife is the handle and blade. The blades can be different in grinds or regular bevels.
Blade: Most of the familiar blade design is scandi grind, which helps the edge bite even through the hardtop easily without slipping.
Handle: The handle design is super useful to hold and use the bushcraft knife. The handle will feel very comfortable what is the best for your hand.
Materials of Bushcraft knife
Every type of bushcraft knife isn't made from the same materials. The material of the blades makes the knife more long lasting and gives excellent performance. And the handle material will affective the weight and give good looking.
Blade material: There are a lot of versatile types of steel that make the knife blade. Stainless steel is the more familiar and affordable type of material. Carbon steel with several types of high grades is used. Both of the steel makes the blade more durable and practical.
Handle Material: Knife handles making a knife more flexible, and most people like to pick hardwood like walnut. This material gives the knife a nice appearance. With an authentic look, it feels super comfortable to grip and use.
Without those, there have some more long-lasting plastic and synthetic material. They are also more lightweight, durable, and ideal for outdoor use. Leather is a standard handle like wood, which is a little bit prone to wear than plastic or synthetic.
Types of bushcraft knife step by step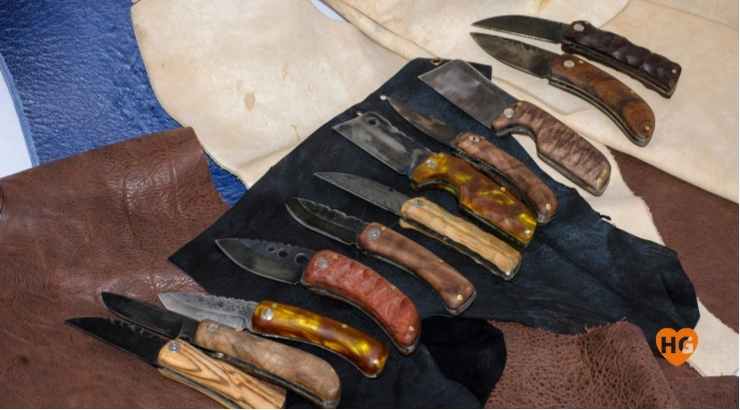 Different types of bushcraft knives are available in the current market. All of them come with their uniqueness. Some of the excellent bushcraft knife which is popularly mentioned below:
1. Morakniv Bushcraft
Morakniv bushcraft knife is the toughest knife. The length of this type of knife generally is 4.3 inches, where the blade is only 3.2 mm. This type of knife is made from carbon steel that makes the super sharper that can be cut the hair effortlessly.
Rubber coated handle makes it more durable and inspired a cult structure in the knife world.
2. Falknieven F1
The 'Swedish Air Force Pilots' use this type of knife as their official survival knife. It is the most wanted reliable survival knife and more robust than other knives. It is bombproof laminated and VG10 steel.
The handle is made from ultra-tough Thermorun. The overall length of this knife is 3.8-inches, and its weight is about 6-pounds. Even if you aren't a pilot, you can purchase this knife for safety, which can come with you as your assistant in any adventure.
3. Helle Temagami
Among other bushcraft knives, it so looks pleasant and capable of cutting deepest. It was designed for giving severe punishment by Les Stroud. All Temagami make crafts with the curly birch handle. The triple-layered stainless steel knife is just not only looking nice but also super helpful.
4. Fiddleback Forge KE Bushie
It looks like an exclusive knife for the baton wood and worth standard. It has an excellent balance, maneuverability that makes it much stronger. The knife is faster and looks amazing.
5. Spyderco Bushcraft
Worldwide military, law enforcement, and even EDC are so fans of this type of bushcraft knife. The blade is prepared from high carbon steel that makes the knife super effective and sharper. The hole at the finishing point of the handle is the mark mark of the Spyderco.
6. Ka-Bar Becher BK2 Campanion
 It is the heaviest knife, around 16 pounds. It is made with 1095 Cro-Van carbon steel. The length of it is 5.25-inches. It is suitable for safety and any rigid task handle.
Final Words!
What is a bushcraft knife? We think you have got about this type of knife clearly from this post.
So, you will agree with us bushcraft knife is handy and robust to use any toughest jobs or as a safety kit in each outdoor activity.
Now you can get ready to go out for any new adventure with this new friend bushcraft idea.
Good Luck!
Related Post: