On a hot summer day or after a tiring day – what makes you refreshed? Obviously, a cold refreshing drink like lemonade or orange juice, and if you have a ninja blender in your possession, then no one can stop you from staying fresh all day long.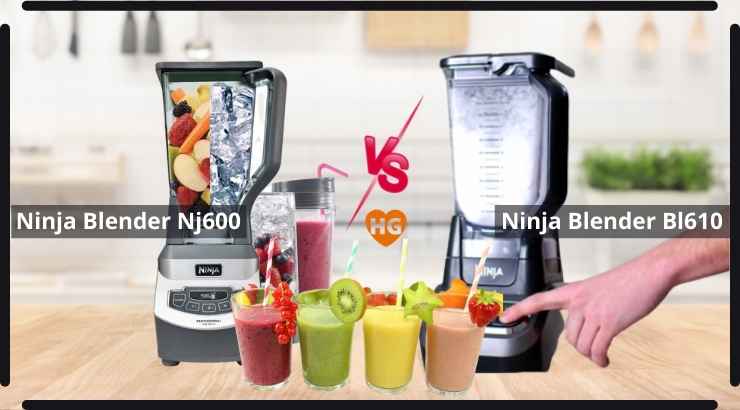 As for having a ninja blender, you will find a different food processor that helps make juice and blend simultaneously with ease. Among hundreds of models, you'll get confused in these two ninja nj600 vs bl610 reviews.
To make your selection easy, in this article, you will get comparison information in detail to understand. So let's dive into the details about these best processors and blenders in town.
Comparison table of Ninja Blender Nj600 vs Bl610
Although these two blenders come with common features, there are some unique features that make them different from each other. Before going to the comparison details.
Let's check the comparison table to get a glance at the features.
Ninja Blender NJ600 Review
Product dimension: 8 x 7 x 17 inches
Weight: 7.2 pounds
Motor power: 1000 watts
Speed: button 1,2,3
Material: BPA free and plastic
Blade: 1 blade
Warranty: 1–year
Ninja Blender BL610 Review
Product dimension: 9.5 x 7.5 x 17 inches
Weight: 7.1 pounds
Motor power: 1000 watts
Speed: Low, medium, high
Material: BPA free and plastic
Blade: 6 blade
Warranty: 1–year
Ninja Nj600 Vs Bl610 Detailed Comparison
This section comes with the comparison features that make the blenders unique from each other. The details given below will help the users to pick the one that will meet the requirements.
Let's start without any delay to get detailed information on what is the comparison between Nj600 Vs Bl610:
Product dimension
In size, both of the blenders come in slight differences. The Ninja nj600 professional blender comes in 8 X 7 X 17 inches, and the ninja bl610 professional blender comes in 9.5 X 7.5 X 17 inches. You can say both of the blenders will fit the cabinets or countertop without taking any extra space. The size difference is not much, but the nj600 takes less space than the Bl610 blender.
Button configuration
The design of both blenders is quite similar, but the Bl610 comes with extract nutrient settings single-serve button. With these settings, you can pull out the nutritional components from the ingredients. By this, you can make a healthy drink easily. This is the unique difference between the Bl610 blender.
Speed settings
Nj600 has three-speed buttons that come in numbers 1, 2, and 3. You can run the preferable speed per your requirement. On the other hand, Ninja BL610 has low, medium, and high – these three-speed settings. But the speed is not different; both help to blend anything in a second.
Number of blades
To crush ice and to make juice fast, bl610 is the top pick as it comes with 6 blades. Nj600 has one blade, so crushing ice is not recommended for this blender.
Cleaning process
The parts of the nj600 like blade, lid and pitcher are dishwasher safe. On the other hand, the Bl610 blender requires cleaning with a hand. The best part is you can clean this blender with a damp cloth easily.
Noise level
The noise level of the ninja bl610 blender is lesser than the ninja nj600 blender. You will not feel a blender is running in the house while using the Bl610 blender.
Accessories
Though both blenders come with the same accessories, the ninja BL610 has an extra dough blade. If you like to eat snacks, then this blade is made for you.
Both blenders come with replacement accessories that are readily available on the market. If you ever need replacement parts for the Ninja Blender Nj600 and Bl610, you can choose from the below.
Juicer Accessories Set for Nutri Ninja Blender 6 Fins BL610
Stainless steel and food-grade PP are used to manufacture this replacement part. Installing this part is effortless. All you need to do is, simply give a clockwise turn to the blade and for assembly screw it. Moreover, you will need to make sure that your blender has 6 fins since the blade replacement is 6 fins. Furthermore, the replacement part is compatible with Ninja Bl610.
Ninja blender parts for NJ600 NJ602 BL610 BL700 (Blade)
You will love to know that, this replacement part is compatible with Ninja blender NJ600 NJ602 BL700 BL610. This is a genuine Ninja part that confirms its longevity. With proper care, you will get long-term service from this part for sure. One thing that needs to be kept in mind, this part will work on 72 oz. pitcher.
Ninja Professional Blender Nj600 Vs Bl610: Which one is best for my Kitchen
Food Grinder is a must-have kitchen appliance for every kitchen. The ninja brand is one of the popular ones, and they come with powerful but user-friendly features. When you are given the option between bl610 vs nj600, you will be in a fix for sure.
The Ninja blenders come in different fancy terms like nutrient fusion, vitamin and nutrient extract, and total crushing blending. The interesting thing is that the terms really describe the exact function of the blender.
The main differences between Nj600 Vs Bl610 are in function, accessories, and power.
If you want a blender just for blending different ingredients, then Nj600 is the option for you. If you want a grinder that will do all the blending and grinding with multiple blades, then Bl610 is the best option.
Moreover, if you want a new ninja model blender with a quiet running motor, then Ninja BL610 is the one for your kitchen.
Related Article:
Frequently Asked Questions (FAQs)
In this section, I have tried to give answers to the common questions that users ask. I think the new users of ninja blender will find the answers helpful.
What's better, Vitamix or ninja?
Obviously, the ninja blender is the best one. Because this blender comes with a user-friendly feature and is easy to use, you can crush ice better in the ninja blender than the Vitamix.
Are Ninja Blender cups interchangeable?
Yes, most of the ninja blenders come with single-serve cups, and they are interchangeable.
Which ninja blender is best for squeezing?
These blenders work as blenders, not juicers. But squeezing is easy with the ninja blender as it comes with a preventive squeezing size.
Are ninja blenders easy to clean?
This blender is easy to clean due to dishwasher-safe screws, cups, and other accessories.
How loud are ninja blenders?
The ninja blenders come with 69- 88 decibels. When you crush ice or frozen items, the blender gets louder than normal. You can lessen the noise by using towels or cloth mats under the blender.
Conclusion
I hope you have got enough information about the comparison between Ninja blender nj600 vs bl610. The fact is both of these blenders are professional food grinders so that you will get the topmost advantages from both of the models. You can use either of them for any grinding, blending, crushing, and smoothening process.
Most of the features and designs are the same. So the decision gets complicated while picking.
Whatever model you choose, make sure it meets your requirement.
Ninja NJ600 Professional Blender Review
Ninja BL610 Professional Blender Review